Get to know the industrial cameras and the E°CAMBOX from Eckelmann. The E°CAMBOX compact vision system offers you many proven standard functions for machine vision that you can start using immediately to teach your machine how to see.
Our machine vision team will provide you with expert advice on the selection of suitable components for your vision solution, from the camera and optics to the lighting, the industrial PC and the software for image evaluation. And of course we also take care of the integration into your application as well as the configuration and programming of the vision system.
The components from our image processing portfolio are optimally matched to our automation systems. If you require additional components (such as simple vision sensors, code readers, 3D cameras or light-section sensors for laser triangulation, lenses, lighting technology, special housings…), we will be happy to develop a future-proof and manufacturer-independent overall solution for you.
As an experienced integrator for image processing, we will find the components that best fit your requirements and plans from both a technical and an economic point of view.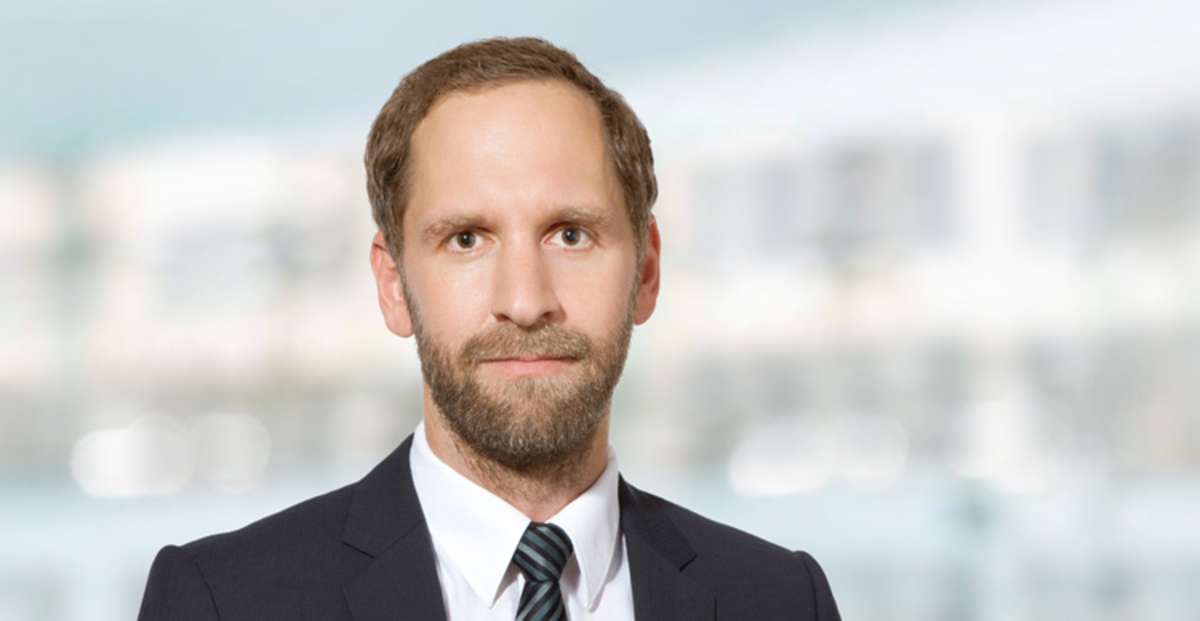 Arno Dewald
+49 611 7103-247
A.Dewald@eckelmann.de
E°CAMBOX: Ready-to-use image processing system
On the YouTube channel of our subsidiary Rex Automatisierungstechnik you will find a video that clearly shows the advantages of RGB lighting using the example of QR code capture.
Eckelmann has developed the E°CAMBOX as a powerful multitool for machine vision. The compact image processing system consists of a camera, optics and lighting. Thanks to the compact and robust housing (IP54), the E°CAMBOX can be easily integrated into the machine, whether mounted statically or travelling.
It is ideally suited for implementing a wide range of standard machine vision tasks in the shortest possible time. The simple integration into control architectures based on the E°EXC controller family and E°Tools HMI user interfaces creates consistent solutions with high added value for the automation of your application.
The E°CAMBOX supports the following functions, among others:
Capture and saving of single frames
Live image acquisition (crosshairs, mark contour and evaluation area can be displayed)
Barcode and data matrix code reading (forklift code PDF417, Code 2/5, Code 128, Code 39, Code 93, EAN-13)
Automated calibration and adjustment to the tool or machine coordinate system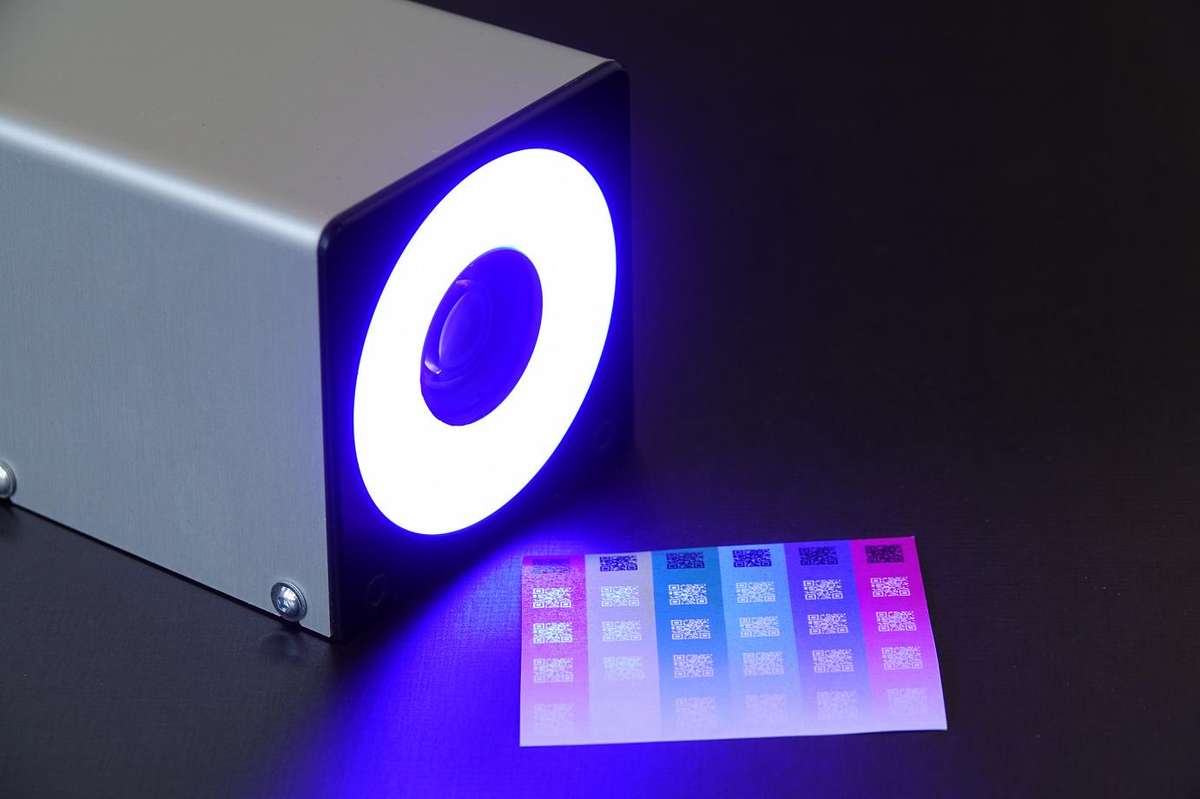 Also available as machine vision system with built-in RGB illumination for best contrast in color applications
Optics and lighting technology
The selection of the appropriate lighting technology and optics has a very large influence on the image quality and on what image processing algorithms can visualize and recognize in the captured images. Therefore, optics and illumination should always be precisely matched to the application. There are many factors to consider, such as wavelength, angle of incidence, scattering, polarization, properties of the observed objects (such as color, surface reflection, geometry…). Our machine vision experts know what is important here and select the appropriate standard components or develop customer-specific lighting solutions.
Competent selection of optics and illumination technology speeds up development because you usually need to test the vision systems less.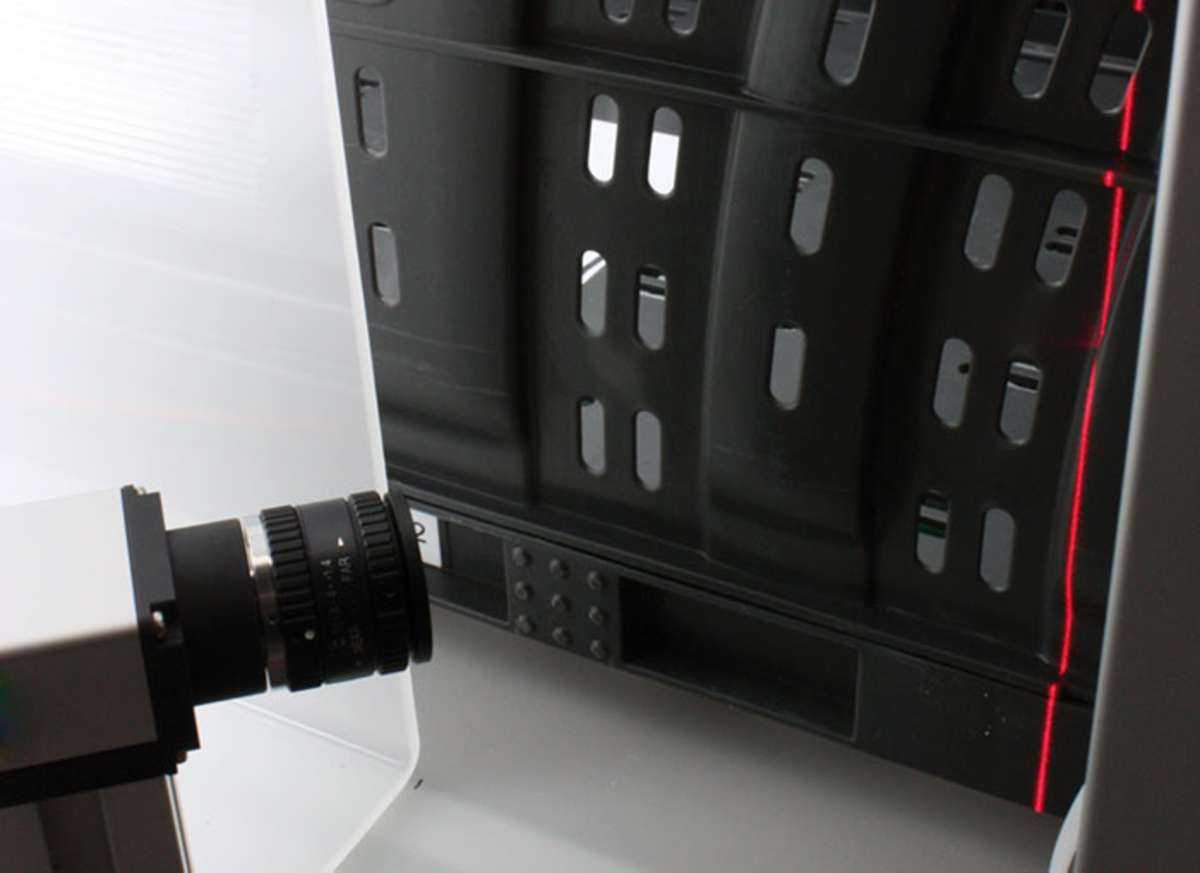 Returnable crate travels through inspection tunnel: Camera records laser line projection for 3D image processing.